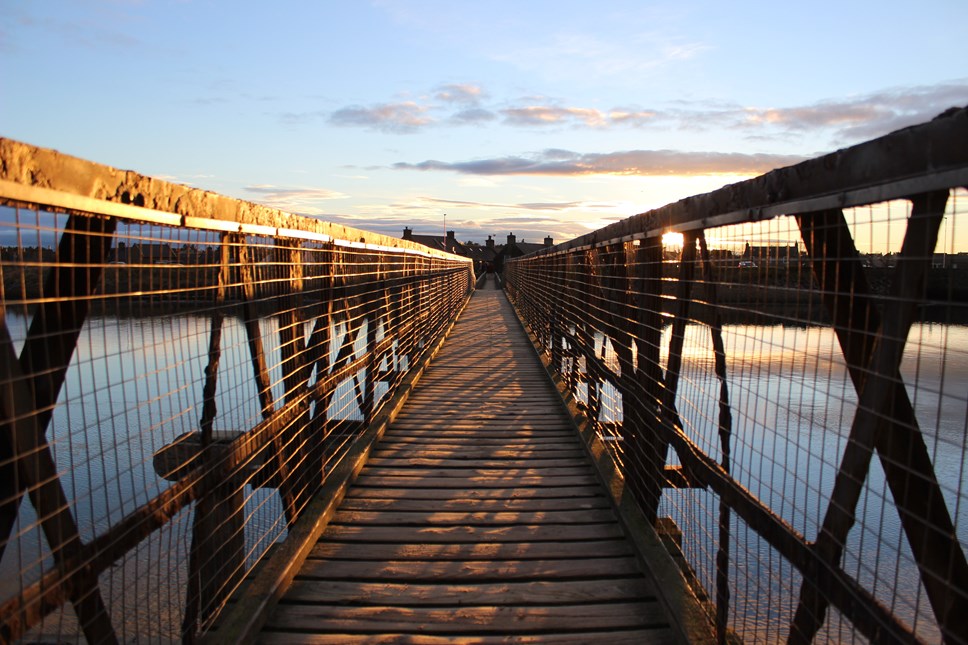 Virtual exhibition showcases replacement East Beach bridge options
A VIRTUAL exhibition showing the journey so far to replace the East Beach footbridge in Lossiemouth launches today (1 March).
Residents and visitors to Lossiemouth are being offered the chance to share their views, as well as local businesses, as part of the community engagement process.
It shows work done during phase one of the bridge replacement project – funded by the Lossiemouth Community Development Trust, HIE and the Scottish Government – and carried out by contractors Beaver Bridges. It'll also detail the involvement of the community and local businesses to develop the town, and a flyover of what the replacement bridge could look like.
Attendees of the week-long virtual exhibition will be asked for their feedback by noon on Tuesday 9 March, and this will be used to support the business case being submitted to the Scottish Government to allow work to progress to phase two of the project – design and build. Subject to funding being secured, it's anticipated the bridge could be completed by Spring 2022.
Convener of Moray Council, Cllr Shona Morrison, thanked the community for their involvement so far.
"We know how important a footbridge to the East Beach is for the community of Lossiemouth, for its residents, visitors and also the economic impact. This virtual exhibition will be vital in gathering views to allow us to secure funding to move to phase two – designing and building of the bridge.
"Thank you to all who have taken the time to share their thoughts so far; I'd encourage all attendees to feed back after the exhibition so we can deliver a bridge that best suits the needs of the community."
Rab Forbes from the Lossiemouth Community Development Trust said they, the community council and business association are pleased that the Bridge project is moving forward positively.
"The Trust was the major funder for the community engagement survey, the options appraisal and the Economic Impact Assessment, which all contributed to the business case.
"This event will inform the local community of the council's preferred option, as well as the details of the OA and the EIA. The public will have the opportunity to forward their comments to the Moray Council.
"For those who are unable to view the virtual event we are trying to source posters and leaflets which will be available to be picked up from selected shops. Further news will be posted on the Lossie Bridge Updates Facebook Page as it becomes available."
Those who can't send their feedback through the online survey can email flooding@moray.gov.uk or write to: Lossiemouth East Beach bridge project team, Consultancy, Moray Council, PO Box 6760, Elgin, Moray, IV30 9BX.
Contact Information
Moray Council Press Office