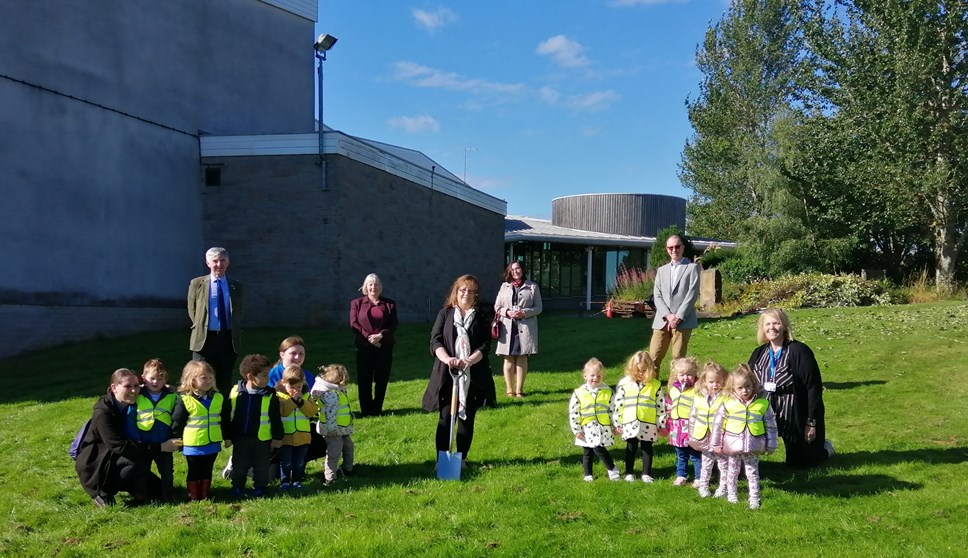 Work starts on new £1.8m Keith nursery – which now needs a name
Construction has begun on a new £1.8m nursery in Keith, which will provide an additional 60 early learning and childcare (ELC) places. It now needs the help of the community to find a suitable name.
Flexible Childcare Services Scotland (FCSS), which currently operates the nursery out of Longmore Hall, will continue to run the new nursery being built by Moray Council as part of the Scottish Government's expansion of ELC entitlement to 1,140 hours a year.
The new nursery, situated next to Keith Grammar School, is expected to be complete by summer 2021.
Now it's over to the community to suggest names for the new nursery, as 'Keith Nursery' is already in use.
Members of the public have until 30 September 2020 to submit their suggestions to FCSS Nursery Manager, Eleanor Smith, who is encouraging everyone to get involved: "Our new nursery is unique; we're giving children a stimulating early learning experience, encouraging them to investigate, be creative and develop critical thinking skills.
"We're also giving parents a unique opportunity to book their childcare by the hour so that they can continue with their existing work and training commitments. This will enable parents to be more efficient with their funded hours, saving them potentially hundreds of pounds each month by allowing them to book their childcare at the times when they need it most.
"We'd love the nursery to reflect the pride people have in the friendly town and we encourage everyone from children to grandparents to have their say in the new name."
Chair of the Children and Young People's Services Committee, Cllr Sonya Warren, said: "The additional places being created with this nursery is much needed in Keith and I'm looking forward to seeing it take shape.
"I'm also looking forward seeing what ideas people come up with for naming the new nursery as it's not every day we get to invest almost £2m into the town. There are so many names, words, titles and people associated with Keith that it shouldn't be a problem for local folk to come up with some inspiration."
Name suggestions can be submitted via email to Ms Smith on Eleanor.Smith@fcss.org.uk. After 30 September the suggestions will be shortlisted and a poll opened for locals to choose their favourite from those shortlisted with a winning name to be announced prior to the new building opening.
Contact Information
Moray Council Press Office
Notes to editors
Pictured: Back Row L-R: Cllr Donald Gatt; Cllr Theresa Coull; Cllr Laura Powell; Robin Patterson, Senior Project Manager ELC Expansion
Front: staff and children from Flexible Childcare Services Scotland and Cllr Sonya Warren