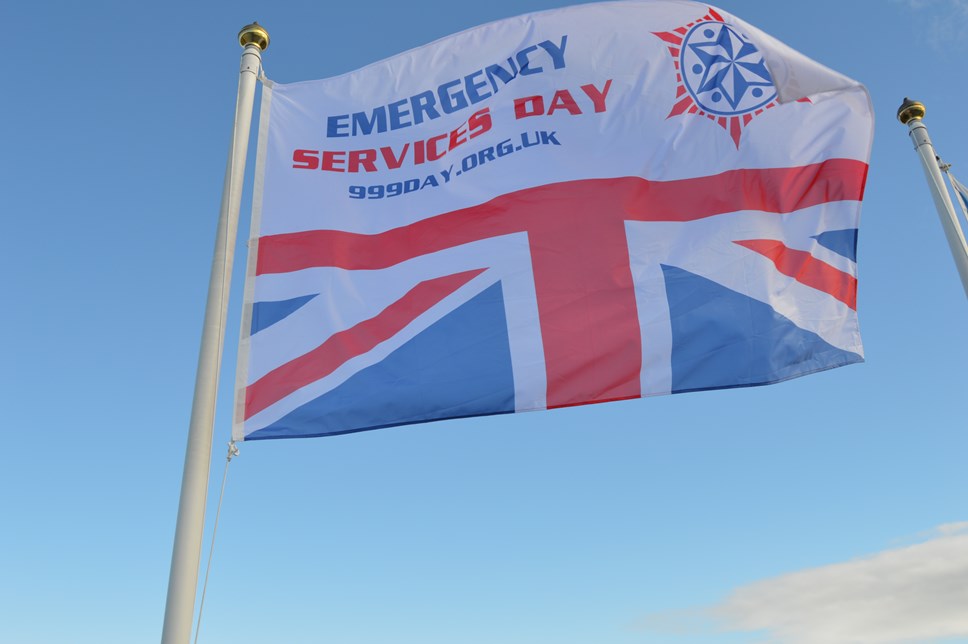 Emergency Services Day marked by flag-raising at Moray Council HQ
EMERGENCY Services Day (9 September) has been marked in Moray by a flag-raising at Moray Council HQ in Elgin.
The Lords-Lieutenant of Moray and Banffshire, Major General Seymour Monro and Andrew Simpson respectively, were joined by Moray Council Convener, Shona Morrison, and Chief Executive, Roddy Burns alongside Richard Lochhead MSP. Also in attendance were representatives from the Armed Forces and emergency services in Moray including Police Scotland, HM Coastguard, RAF Mountain Rescue, Scottish Fire and Rescue Service, NHS Scotland and MIRO (Moray Inshore Rescue Organisation).
The UK-wide event showcases support for those working and volunteering in emergency services.
Convenor of Moray Council, Cllr Shona Morrison, said: "Emergency Services Day is our chance to thank those people who have dedicated their lives to working and volunteering in the NHS and emergency services.
"During the Covid pandemic we have seen emergency workers put themselves at increased risk to protect our citizens. This is our opportunity to say thank you to those currently serving and to remember those who have lost their lives in the line of duty."
Moray's Lord-Lieutenant, Major General Seymour Monro, said: "It is so right to remember all our Emergency Services on a special day each year. They go above and beyond what might normally be expected to help others, often in dangerous situations.
"This year that has been particularly true, both during the lockdown period of the pandemic when the NHS were hugely in demand, and subsequently when more people have been around including many tourists when our police, fire and rescue services have been extremely stretched.
"We thank them all for what they do every day on our behalf."
Lord-Lieutenant of Banffshire, Andrew Simpson, said: "Every year the Emergency Services Day gives us the opportunity to show our appreciation to the teams who do so much to keep us all safe.
"This year the pandemic has highlighted the exceptional commitment, and indeed the bravery, of members of all these services. We are so grateful to each and every one of them and also those who work alongside them."
Contact Information
Moray Council Press Office